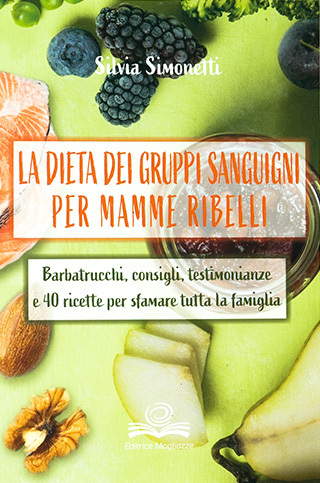 Silvia Simonetti
Blood type diet for rebellious mothers – Tricks, advices, stories and 40 recipes to feed the whole family
I was looking for some other mother who followed the blood type diet like me… I found thousands of them!
Thus was born Silvia's secrets, a Facebook group to talk about how we manage with our children to carry on this natural and healthy food style from birth to adolescence. This book collects the posts, experiences, recipes, practical advice and "strategies" that we rebel mothers have developed over the years by joining forces.
If you don't know where to start with the blood type diet… this is the book you've been looking for!
This book is only available in Italian
"It is difficult but not impossible" to follow a correct diet from birth, indeed from pregnancy. We talk about correct nutrition during pregnancy, breastfeeding and weaning. It is told how it is possible to explain the diet to children at all ages, how to do the shopping, how to manage the school canteen, special occasions, birthday parties and even winter ailments with natural and effective remedies.
The benefits of this diet are reported in many direct testimonies from mothers who are part of the Facebook group "Silvia's secrets", as well as in the author's advice. To make this "survival manual" even more practical and complete, more than 40 new sweet and savory recipes have been included, all gluten-free and dairy-free, but tasty, with few ingredients and excellent for both children and adults.
Reviews
I recommend it to mothers who are trying to wean their babies in a healthy and natural way. Excellent book in addition to the first "My mum's special cuisine".
Amazon
Quotes
If by adopting a diet according to nature, the life of us adults improves, if this heals us and makes us strong and healthy, all the more reason it is right to adopt it for our children, from conception and, if possible, even before.