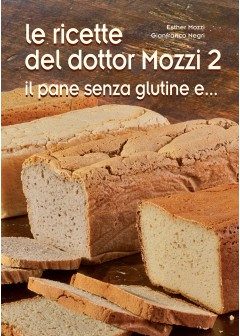 Doctor Mozzi
Doctor Mozzi's recipes vol. 2 – Gluten free bread and…
One of the most difficult changes in approaching the blood type diet is giving up dishes based on pasta, bread and baked goods in general, which unfortunately contain a lot of gluten. All those who had to eliminate these dishes from their own diet, will be able to enjoy them again.
This book is only available in Italian
I want one
The book contains recipes for preparing bread, rolls, focaccia, pizza, quiches, polenta and much more, using alternative, gluten-free cereals (for example rice, corn, millet or buckwheat), pseudo-cereals such as quinoa, but also vegetables and flours obtained from legumes.
The recipes contained in this book are described very accurately, so that it is not necessary to be an expert in baking (or cooking in general) to try preparing them. The various dishes also have the advantage of being very flexible and can be modified according to the blood group, personal tastes and dietary needs.
Reviews
What a struggle and sadness to have to give up using my beloved sourdough! My husband was worried that he couldn't eat my bread anymore. In this book I rediscovered the beauty of cooking different breads, gluten-free and healthier for us. And what about pizzas and savory pies? Excellent! Eventually we discovered new flavors.
Macrolibrarsi.it  
Quotes
I have certainly caused some "suffering" to all the people who have had to eliminate wheat bread, spelled bread and other cereals that contain gluten from the table. Now, with this book, all these people will be able to take away some whim by bringing back to the table well-made, well-leavened and well-cooked bread, sandwiches, focaccias and other baked goods; prepared with quinoa, buckwheat, rice, millet or corn.