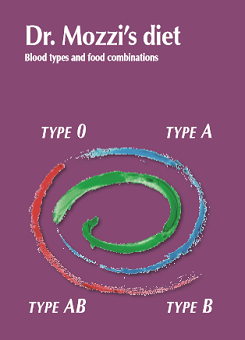 Doctor Mozzi
Dr. Mozzi's diet – Blood types and food combinations
This book is meant to draw attention to nutrition and its repercussions on the human body.Its content is intended to enable anyone, even those with no medical knowledge, to keep their state of health in check. It is a practical manual that affords us the possibility of understanding what goes on within our bodies.
These notes were compiled after thirty years of medical practice and twenty years of observation and study of the human body and its reactions to the ingestion of specific foods. A distinguishing feature of the method is its simplicity, which renders it accessible to all. It allows everyone to learn how to "listen" to their own body's signals, to identify the effect that food may have on different individuals and to determine the most suitable lifestyle for each person.
Reviews
It's worth trying
This book is amazing. Lost weight and got pregnant only changing my diet after being trying for so long. Can't still believe it.
Thank you very much Dr. Mozzi.
Amazon
Quotes
Do try to acquire an in-depth understanding of your body.
Do try to be curious, and never stop experimenting